Both home shopping and buying activity cooled in December as consumers focused on the holidays and got out their snow shovels in many parts of the state. The number of closings was 40% lower than a year ago and there were 26% fewer listings pending sale.
Across all markets REcolorado data shows persistently high prices, which combined with higher interest rates kept affordability top of mind for home shoppers. Homes are taking longer to move out of the Active status as shoppers take their time to look at more properties.
How Sellers Are Impacted
In Fannie Mae's December housing sentiment index, the share of respondents who said now is a good time to sell a home dropped, while the share saying now is a bad time to sell a home increased. This sentiment is supported by Recolorado data, which shows a 30%+ drop in new listings of homes for sale compared to both last year and last month. Existing homeowners may be waiting to list their properties, since many have already locked in lower mortgage rates, creating minimal incentive to sell and buy again until rates are more favorable.
What This Means for Buyers
Home sales continued to decline in December as buyer activity remains dampened by mortgage rates that are approximately twice what they were a year ago. The number of home closings in the Denver Metro area is 40% lower than last year and down 8% month over month. Homes were also on the market, available for sale, a median of 26 days longer than they were last year at this time as home shoppers took their time making decisions.
On a positive note, December brought four times more standing inventory for home shoppers to explore and closing prices were 4.4% below the original list price, indicating that buyers have been exercising their negotiating power.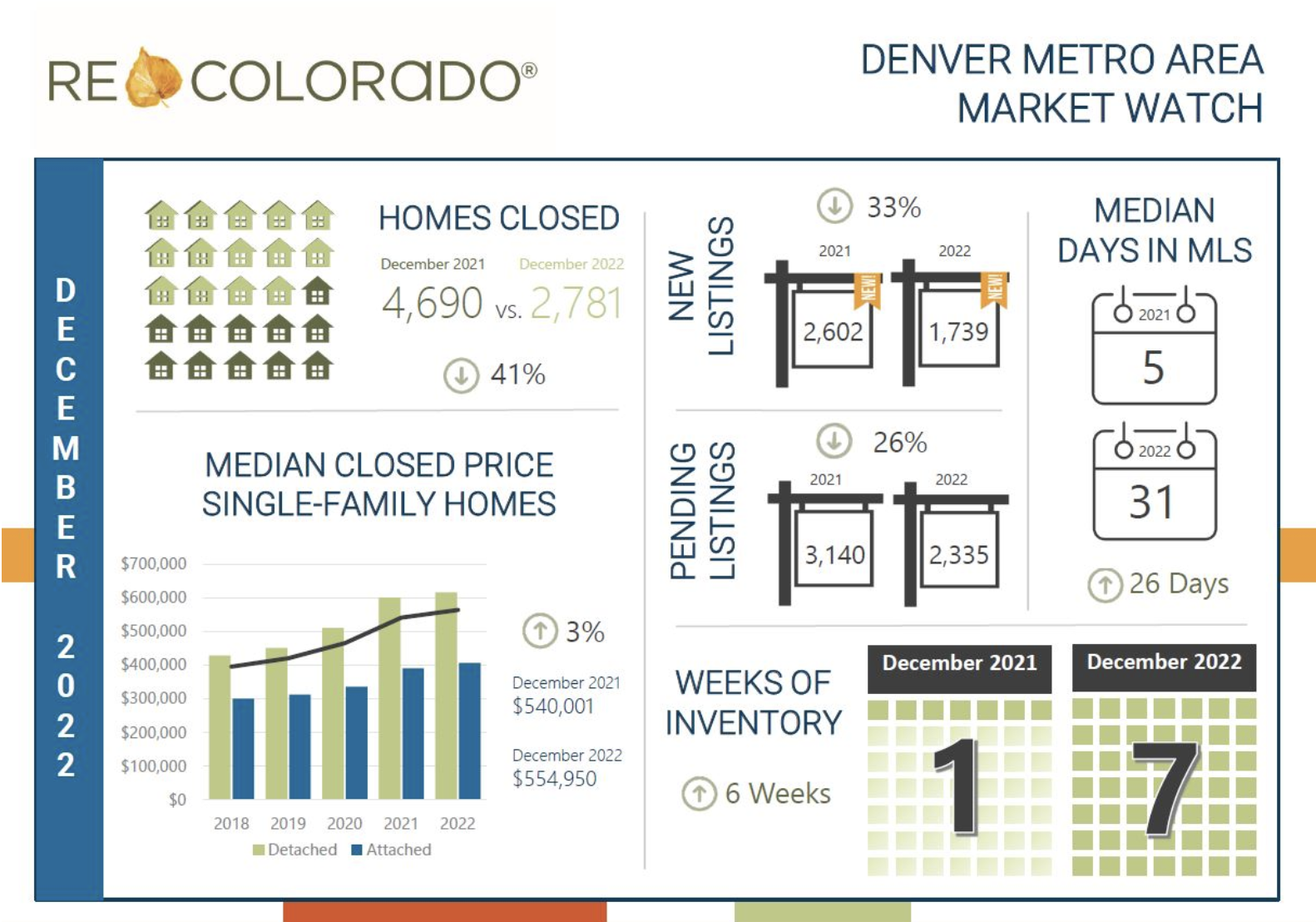 P.S. For market stats specific to your town or neighborhood, please do not hesitate to reach out. I'm here to help!
Sally Heldman
Broker Owner
Metro Brokers | Heldman Real Estate
sally@sallyheldman.com
303-475-4508 Cell